4. Hotel at the base of 'The Ogre'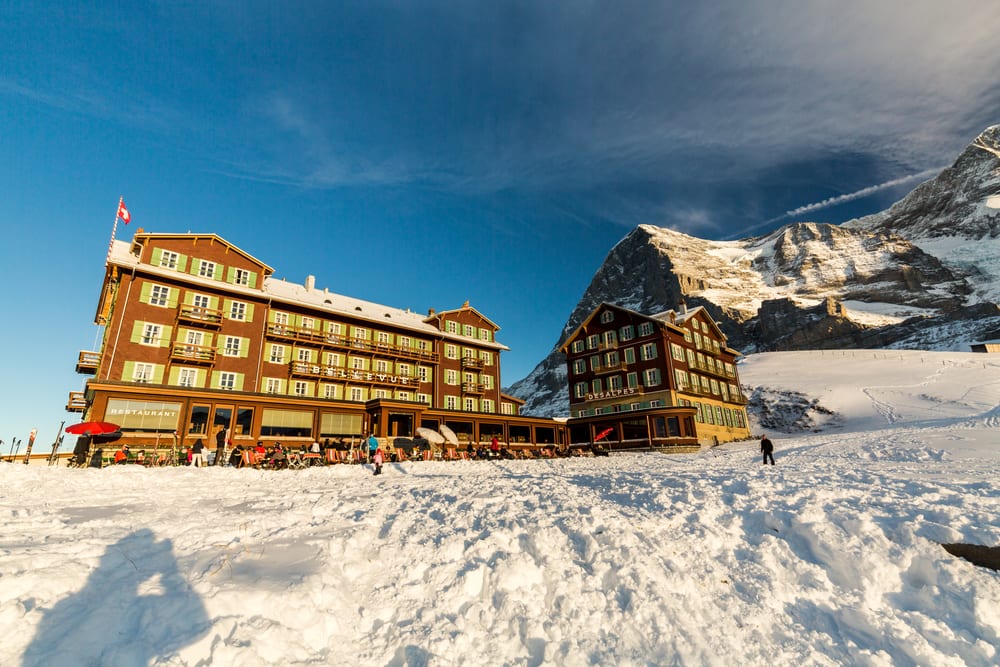 During the 1930s, groups of people would gather at the base of the Eiger in Switzerland to watch climbing parties try and conquer the mountain's sheer face. Its north face was first climbed by an Austrian-German expedition in 1938 and the mountain, also known as the 'Ogre', soon became known for its multiple fatalities. Since 1935 there have been at least 64 deaths on the mountain, all climbers who attempted to reach the top. The north face of the Eiger consists of limestone and ice and is always in shadow. It has also earned itself the nickname, Mordwand, which literally means 'death wall.' The Eiger is also known to have its 'own weather system' which is very unpredictable.
At the base of the north face of Eiger as well as the adjacent Mönch and Jungfrau, darkened by its massive shadow, sits the Bellevue des Alpes hotel. It is here that the aforementioned groups would gather on balconies and terraces to catch a glimpse of the climbing parties dangling from the side of the mountain. The hotel lies 2070m above Grindelwald and Wengen and is one of the few remaining grand hotels dating to the 19th century.[7]
3. Incredible tribute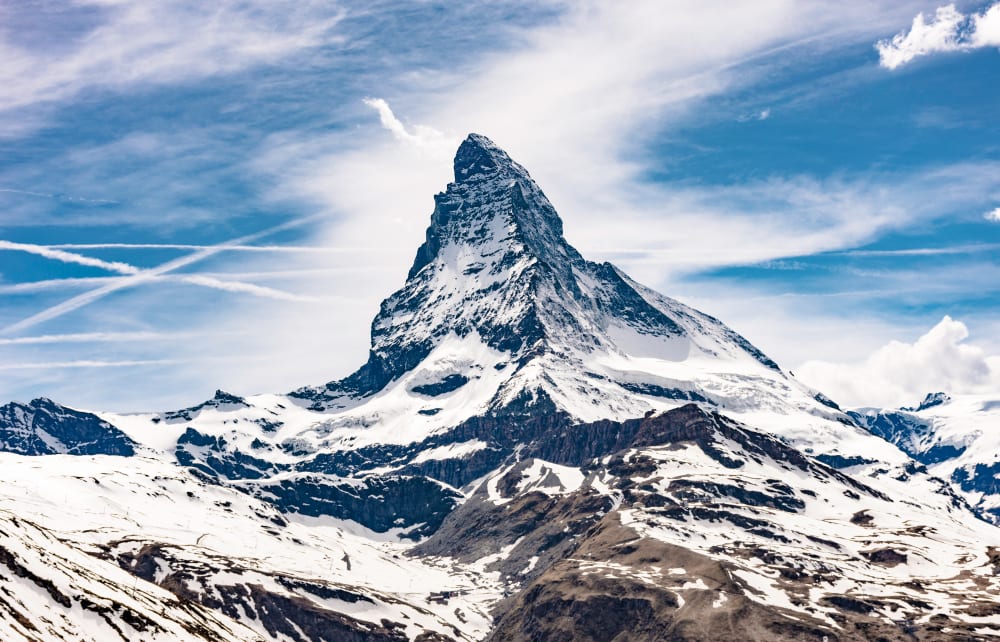 The Matterhorn is one of the most recognizable mountains in the world and straddles the Swiss-Italian border. Its pyramid shape was formed millions of years ago when two landmasses crashed into each other and forced the ground upward. The rock at the top of the mountain has been determined to have come from the African continental plate when it slammed into the European plate. The resulting peak has four sides that align with the cardinal directions: north, south, east, and west.
The mountain claimed its first victims during the first ascent made to the top by a seven-member group of climbers in 1865. Only three made it back to the ground alive. In the years that followed, around 500 more people have died trying to climb the mountain.
In 2015, a group of mountain guides retraced the streps of those who ascended the mountain 150 years prior and placed glowing red lanterns along the mountain's ridge as they went. The result was a magnificent tribute to the brave souls who lost their lives in the pursuit of the peak.[8]
2. What's in a name?
The native Koyukon Athabascan people call the tallest mountain in North America Denali, which means "The Great One." However, in 1896, a gold prospector by the name of William Dicky named the mountain Mount McKinley after President William McKinley. The park in which the mountain sits was also called Mount McKinley National Park and was established in 1917. In 1975 the name of the mountain was changed to Denali by the State of Alaska, but was blocked by the federal government from doing so officially. Finally, in 2015, under the presidency of Barack Obama, the name Denali was officially restored to the mountain.
Denali is taller than Mount Everest, but both are pretty much dwarfed by Mauna Kea in Hawaii which is 10,204 meters tall when measured from its base on the ocean floor to its summit.[9]
1. Growing mountain
observation point,pinnacle peak trail,emerald pools trail,canyon overlook trail zion,national hiking day,noanet woodlands,walking spots near me,skyline to the sea trail,superstition mountain trails,potato chip rock,woodland walks near me,superior hiking trail,finger lakes trail,parks with walking trails near me,rachel carson trail,palisades interstate park trail,forest trails near me,point reyes hikes,blue hills skyline trail,mount washington hike,pole steeple trail,pinnacle peak hike,pfeiffer falls trail,urban hiking,bluff trail,places with waterfalls near me,beacon rock hike,fire trail,beautiful walks near me,good walks near me,good walking trails near me,cactus to clouds hike,best walking trails near me,parks and trails near me,spanish fork hot springs,nice walking trails near me,eagle falls,small hikes near me,sunset peak trail,trails near me,tumalo falls hike,pima canyon trailhead,olomana hike,cool trails near me,dog walking trails near me,nature trails near me,easy hikes,forest park trails,sky pond hike,pillbox hike,big bear hiking trails,climbing mount kilimanjaro,middle prong trail,breakneck ridge,breakneck ridge trail,seven sisters hike,wisdom tree hike,hiking day,trailjournals,mt rainier trails,trailheads near me,hiking spots,silver falls hike,all hikes,north table mountain trail,lily mountain trail,dog trails near me,judd trail,nature hikes near me,lake trails near me,good dog walks near me,sea to summit trail,walks nearby,seven falls hike,easy hiking trails near me,machu picchu trek,walking trails near me,long creek falls,ice house canyon trail,short hikes near me,local hiking trails near me,sunday gulch trail,walking trails near me now,white rock lake trail,nature walks near me,kanarra falls,river trails near me,parks with trails near me,best dog walks near me,bike and hike,mountain hiking trails near me,bald mountain trail,dog friendly hiking trails,kuliouou ridge trail,laugavegur,adams canyon trail,walking paths near me,dog friendly hiking trails near me,mount timpanogos hike,lulumahu falls
Major changes implemented by Park Canada for 2020 saw the banning of solo expeditions on Mount Logan and any other peaks in the Kluane National Park. Climbing parties are required to take out mandatory insurance and all rescues will be charged.
Mount Logan is the tallest mountain in Canada and the second highest in North America. The mountain has the largest base circumference of any non-volcanic mountain on Earth and its exact height was only determined in 1992 when an expedition of climbers reached the top and used GPS technology to establish it.
However, the mountain isn't stagnant at its height of 5,959 meters. In fact, it is still rising due to constant tectonic movements pushing the mountain upward. What's more, the temperature on Mount Logan go extremely low and can fall to -45 degrees Celsius during winter and -27 degrees Celsius during summer.[10]
observation point,pinnacle peak trail,emerald pools trail,canyon overlook trail zion,national hiking day,noanet woodlands,walking spots near me,skyline to the sea trail,superstition mountain trails,potato chip rock,woodland walks near me,superior hiking trail,finger lakes trail,parks with walking trails near me,rachel carson trail,palisades interstate park trail,forest trails near me,point reyes hikes,blue hills skyline trail,mount washington hike,pole steeple trail,pinnacle peak hike,pfeiffer falls trail,urban hiking,bluff trail,places with waterfalls near me,beacon rock hike,fire trail,beautiful walks near me,good walks near me,good walking trails near me,cactus to clouds hike,best walking trails near me,parks and trails near me,spanish fork hot springs,nice walking trails near me,eagle falls,small hikes near me,sunset peak trail,trails near me,tumalo falls hike,pima canyon trailhead,olomana hike,cool trails near me,dog walking trails near me,nature trails near me,easy hikes,forest park trails,sky pond hike,pillbox hike,big bear hiking trails,climbing mount kilimanjaro,middle prong trail,breakneck ridge,breakneck ridge trail,seven sisters hike,wisdom tree hike,hiking day,trailjournals,mt rainier trails,trailheads near me,hiking spots,silver falls hike,all hikes,north table mountain trail,lily mountain trail,dog trails near me,judd trail,nature hikes near me,lake trails near me,good dog walks near me,sea to summit trail,walks nearby,seven falls hike,easy hiking trails near me,machu picchu trek,walking trails near me,long creek falls,ice house canyon trail,short hikes near me,local hiking trails near me,sunday gulch trail,walking trails near me now,white rock lake trail,nature walks near me,kanarra falls,river trails near me,parks with trails near me,best dog walks near me,bike and hike,mountain hiking trails near me,bald mountain trail,dog friendly hiking trails,kuliouou ridge trail,laugavegur,adams canyon trail,walking paths near me,dog friendly hiking trails near me,mount timpanogos hike,lulumahu falls